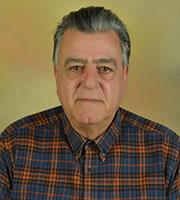 The new Community Council of Arsos would like to take the opportunity of assuming our new duties to wish you Health, Joy and Prosperity.
The new Community Council of Arsos would like to express their respect to all villagers for keeping our village alive. Moreover, we would also like to show our appreciation and respect to Father Michael Constantinou and the Church Committee. We thank the outgoing Community Council and the former President of the Community, our friend Costas Costantinides, the Association for the Development of the Community of Arsos and more specifically its President and friend Elias Ioakeim, as well as everybody who work voluntarily offering their services to our village.
The New Community Council of Arsos is proud of all the people of Arsos, both in Cyprus and abroad and would also like to thank all the friends of Arsos.
Finally, we explicitly state that will do everything in our powers to succeed and we invite everyone to join us in our efforts to provide our children with a community equal to or even better than the one our parents and grandparents created for us.
Sincerely,

President of Arsos Community Council
-------------------------------------
Andreas Vasileiou Psilos